Hans Arp Artworks
French-German Sculptor, Painter, and Collagist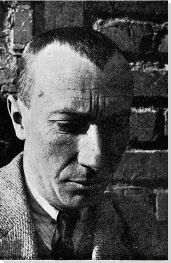 Born: September 16, 1886
Strasbourg, Alsace
Died: June 7, 1966
Basel, Switzerland
Progression of Art
1916-17
Collage with Squares Arranged According to the Laws of Chance
One of Arp's earliest "chance collages," this composition demonstrates his signature technique of tearing paper into rough shapes and dropping them onto a larger sheet, and then pasting them where they happened to fall. However, if we look carefully at this composition, what are the "chances" that pieces of paper would fall this way? They are relatively evenly spaced and aligned with the frame, gently guided by the artist into an unfussy, yet harmonious composition. Even if Arp was not entirely willing to relinquish control over the process, this idea was incredibly radical for the period. One of the first attempts to engage the element of chance in a work of art, it demonstrates Arp's commitment to the ideal of chaos, a hallmark of Dada.
Torn-and-pasted paper on blue-gray paper - Museum of Modern Art, New York
1922
Shirt Front and Fork
One of a series of wooden relief sculptures made by Arp in the 1920s, Shirt Front and Fork depicts a recognizable form in an unrecognizable context. Rendered in black, grey and white, the work has an overt graphic quality that allows the viewer to quickly identify the shape of a fork on the right side. The object to the left, which resembles an enlarged tooth, is less easy to identify, and remains mysterious, evoking a host of associations that are ultimately unresolved for the viewer. Completed only a few years after Arp joined the Zürich Dada group and shortly before he participated in landmark Surrealist exhibitions, this work marks the transition from one movement to another. It is rooted in a stream of unconsciousness that foreshadows the core ambition of the Surrealists to resolve the contradictions between dream and reality. Throughout his career, Arp favored a restricted palette and, as he put it in 1955, "especially...black, white and grey" because, he explained, "There is a certain need in me for communication with human beings. Black and white is writing."
Painted wood - National Gallery of Art
1930
Configuration with Two Dangerous Points
This painted-wood relief belongs to a group of related works that Arp completed in Paris in the 1930s. Animated through the seemingly random placement of the assembled elements, but in fact the product of a careful series of aesthetic choices, Configuration with Two Dangerous Points reveals Arp's strong focus on achieving a perfect structural balance without a loss of movement. Composed of four white and two black elements, this work exhibits an overt sense of play. This quality is further enhanced by its title, which is partially descriptive, but also humorous. In a work that essentially consists of floating blobs with gentle curves, where are these so-called dangerous points?
Wood - Philadelphia Museum of Art
1932, cast c.1953-8
Sculpture to be Lost in the Forest
Arp usually created his sculptures in plaster, sanding away until he found the satisfying shape, and thought up the titles only when the work was complete. This sculpture, a bronze cast of an earlier plaster form, resembles a configuration of heavy objects: boulders, sacks, or figures on a bed. Rooted in Arp's lifelong fascination with the physiological processes of growth and death, the work's title strongly suggests some sort of landscape, but evokes multiple associations that shift as one looks at the work. This is exactly how the artist wanted it. Like Duchamp and others in the Dada circle, Arp believed that the viewer completes the work of art. Sculpture to be Lost in the Forest is a prime example of Arp's ability to balance abstraction with allusion. His forms are constantly in flux and morphing, sometimes toward and sometimes beyond recognition.
Bronze - Tate Gallery, London
1935
Metamorphosis (Shell Swan)
Here as in Sculpture to be Lost in the Forest, Arp began with the form, and titled the work after it was completed.

While it is essentially a sturdy triangle, this apparently simple shape gathers complexity as one looks at it. Its vertical curves suggest fluidity and transience. A firm believer in purely abstract art, Arp was interested in alluding to forms in nature without actually depicting them. While Metamorphosis (Shell Swan) employs the same visual information we find in the world around us, and even resembles the smooth white forms listed in its title, its unique shape seems otherworldly.
Plaster, paint - Solomon R. Guggenheim Museum
1953
Ptolemy
Arp was keenly interested in opposites. In this particular sculpture the contrast between material and emptiness is showcased by the smooth limestone surface, with its elegant line twisted form embracing two gaping voids. Named after the Greco-Egyptian mathematician, astronomer, geographer, and astrologer Claudius Ptolemy (who was also interested in opposites) this work is about being and nothingness, and the complex relationship between nature and humanity, which were inseparable for Arp. Carola Giedion-Welcker described Arp's conception of nature as "an immense vital process, both extraordinarily simple and complex, a cycle evolving between birth and death, constantly changing and growing, and hence to be grasped only dynamically, never statically in the field of art... We detect in Arp the profound experience of life, which conceives of creation as an eternal process, as permanent transformation and growth... This is why Arp's initial forms strike us as being so ready to be transmuted, so filled with inner organic tension."
Limestone - Museum of Modern Art, New York
1953
Cloud Shepherd
Cloud Shepherd was the first monumental sculpture completed by Arp, and one of a number of bronzes generated by the artist in the 1950s. It is a triumphant, late-career statement of Arp's life-long ambition to create art that alludes to forms in nature while steadfastly avoiding representation. Its abstract, but organic, bulging forms suggest figures (a shepherd with his crook, one of the animals in his flock, or both) animated by a mysterious interior life. It is symbolic, for the infinite cycle of life is played out as it is in nature on a microscopic and macroscopic level. There is also a delightful contrast here, between the permanence of a material like bronze, and a form as transient as a cloud.
Bronze - Collection of Central University of Venezuela, Caracas
Similar Art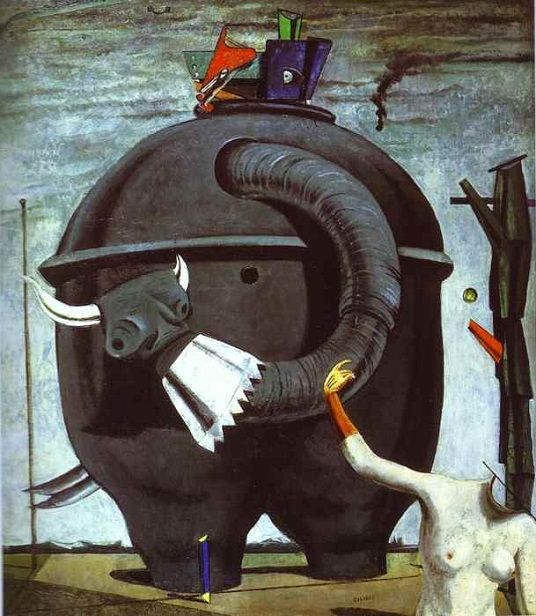 Celebes (1921)
Cut with a Kitchen Knife Dada through the Last Weimar Beer Belly Cultural Epoch of Germany (1919)
Related Artists
Related Movements & Topics